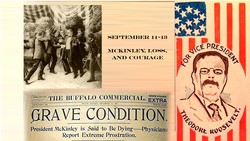 September 11-13:
Courage and Loss

September 11-13:
Courage and Loss

"
Everything is going on most satisfactorily with the President. I feel assured not only that he will recover, but that his recovery will be so speedy that in a very short time he will be able to resume his duties.
​TR to Fletcher D. Proctor, September 9, 1901.
President Roosevelt was an incredibly popular President.
But so was his predecessor.
First Annual Message, December 3, 1901.
​It is not too much to say that at the time of President McKinley's death he was the most widely loved man in all the United States; while we have never had any public man of his position who has been so wholly free from the bitter animosities incident to public life.
​"It is a dreadful thing..."
Roosevelt was never truly keen on being the Vice President. He referred to it as a "stepping stone to Oblivion." And that's where certain Republicans wanted this upstart, energized cowboy to go. But once the cowboy agreed to accept the nomination as Vice President, no one saw the direction he would end up taking.
President McKinley was a man of the people, born of moderate means and determined to stay in touch with those hard-working people and truly represent them. It was one of the few things that this particular President and Vice President agreed upon.
And when McKinley went to visit the Pan-American Exposition in Buffalo, New York, he took meeting the people to an extreme. Hundreds of fair-goers lined up in orderly procession to shake hands with President McKinley in the Temple of Music. Among them was the anarchist assassin Leon Czolgosz, whose handkerchief-wrapped gun blended in with so many other handkerchiefs used to wipe away the sweat of this late summer day.
When Czolgosz reached McKinley, the President thought the handkerchief a bandage, and reached to shake the left hand. Two shots were fired directly into the President's abdomen; Czolgosz was wrestled to the ground before a third bullet could leave the chamber. McKinley purportedly told his men to "go easy on him."
It was a very tumultuous week:
September 6: McKinley shot, operated upon in Exposition "hospital," moved to home of Exposition President John Milburn to recover. TR in Vermont, notified of shooting, begins travel to New York.
September 7: TR arrives in Buffalo; McKinley's cabinet issuing reassurances of the President's health.
September 8-10: – McKinley's health appears to improve; TR urged to leave Buffalo to encourage the country
September 11: TR arrives in the Adirondacks after late night train (Tahawus Club near Newcomb)
September 12: TR hikes with family and friends up Mount Marcy and camps there overnight.
September 13: TR, on the way down, is met by club guide Harrison Hall with telegrams that McKinley had taken a turn for the worse.
Unable to wait until morning, TR hires a buckboard (open wagon) driver to drive him 35 miles to North Creek, the closest train station. A special train had traveled to the station to take Roosevelt through Albany into Buffalo – over 350 miles of track.
Along the way, William McKinley had died at 2:15 on the morning of September 14. The nation would grieve. Roosevelt would grieve. But he also had to take the mantle that no one who pushed him into the Vice Presidency thought he would ever take. But as he wrote to his friend Henry Cabot Lodge:
First Annual Message, ​September 23, 1901.
​It is a dreadful thing to come into the Presidency this way; but it would be a far worse thing to be morbid about it. Here is the task, and I have got to do it to the best of my ability; and that is all there is about it.