​​​April ​1​0, 1​8​9​4​​Archie Roosevelt Born
April 10, 189​4Archie Roosevelt born
Today marks the birthday of Archibald Bulloch Roosevelt – Theodore Roosevelt's fifth child, third son, and gang leader…?
"a most warm-hearted, loving, cunning little goose
"
Archibald Bulloch Roosevelt was born on April , 1896, while TR was serving on the Civil Service Reform Commission under President Harrison. All of Theodore 's children got to run and play at Sagamore Hill in Oyster Bay and most had the opportunity to run about the Governor's mansion in Albany, New York. But the White House? That was a special playground all it's own. Most of the Roosevelt children were at school, or took to other activities. But Archie and Quentin, the two youngest – well, they had a marvelous time of it. As Theodore mentioned, these two "good little bad boys," as mother Edith would say, formed their own little gang of federal government children, and made quite a mess of things wherever they went.
And unfortunately, the ringleaders' father was just as prone to getting into trouble as his children. Edith often would joke about her seven children (6+Theodore). But Theodore loved the chance to play with his children, even carving time out of his Presidential schedule to take the boys on a point to point walk, or telling them stories. He was not about to miss out on the chance to play with his children, as long as they didn't realize their playmate was a 40-something year-old man!
Roosevelt often said his best writing was in his book "Letters to his Children," so I shall leave you with some of TR's own great words about his boy Archie.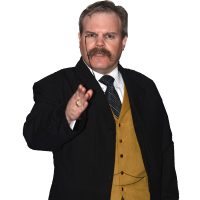 ​THEODORE ROOSEVELT
Letters to his Children.
Archie is the sweetest little fellow imaginable.
Recently I have gone in to play with Archie and Quentin after they have gone to bed, and they have grown to expect me, jumping up, very soft and warm in their tommies, expecting me to roll them over on the bed and tickle and "grabble" in them. However, it has proved rather too exciting, and an edict has gone forth that hereafter I must play bear with them before supper, and give up the play when they have gone to bed.
But first there was a surprise for me, also for their good mother, for Archie had a little Christmas tree of his own which he had rigged up with the help of one of the carpenters in a big closet; and we all had to look at the tree and each of us got a present off of it. There was also one present each for Jack the dog, Tom Quartz the kitten, and Algonquin the pony, whom Archie would no more think of neglecting than I would neglect his brothers and sisters.
Archie is a most warm-hearted, loving, cunning little goose..